[su_row]
[su_column size="2/3″]
Your buying club already saves members up to 10% on oil purchases, our budget scheme helps you manage the cost of your heating oil.
This buying club budget scheme is:
Independent of any supplier – you still benefit from your club purchasing.
Has no charges or hidden costs – you pay the club price and benefit from all the club savings.
Is secure – you can withdraw your money at any time.
It's a simple monthly payment scheme that enables you to spread the cost of your heating oil across the year.  The seasonal nature of heating oil usage makes this an ideal way to plan your expenditure.
By operating it's own monthly scheme club managers can offer members the benefits of lower prices and reduced environmental impact without being tied to a single supplier.
Each month when your club launches its order we will include details of your budget account balance to help you decide if you wish to order, how much to order and how to pay.
Find out more by entering your details below – we will send you all the documentation.
You can download a simple factsheet here and the most frequently asked questions and answers can be found here.
[/su_column]
[su_column size="1/3″]
How Does it work?
It' a simple process: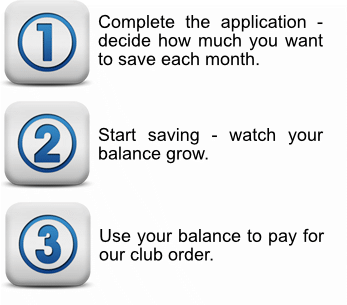 Three simple steps to managing your heating oil purchases.
[/su_row]